Fill out the simple form below to join our Advance Updates interest list and be notified early about new arrangements and other Six String Logic products. Your secrets will be closely guarded.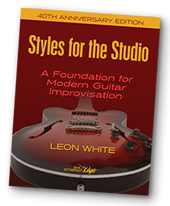 New STYLES FOR THE STUDIO 40th Anniversary Edition by Leon White
Now published by Six String Logic Books, it's back and includes a HUGE digital package as well.